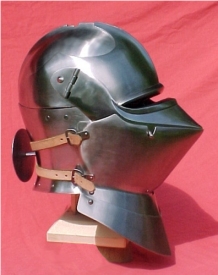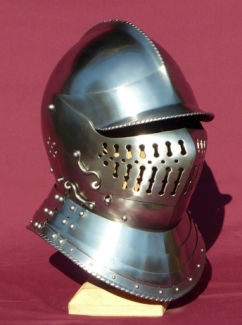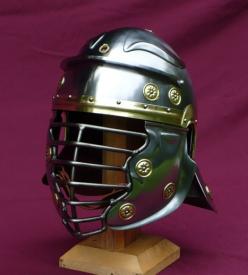 Pages last updated July 12, 2015
Welcome to the new www.clangarmory.com!
What's NEW?
As my old site is finally shutting down, I figure I'd better get on the ball with the new site at last! I'll be moving and updating pages at least semi-regularly. There's a lot to do, but I think I'll start with In Stock, Helmets, and probably Tools and Hardware.

Site updates:
With a little luck, the rest of the site will appear soon. ;)

I'm almost done revamping and improving my kabuto patterns. I have 2 versions of the Oki-tenugui, and am almost finished with the new Momonari. I may add another style to the line-up, but not sure yet. I will be adding new pics to the site. Pricing will be posted as soon as I make a "production" model fo each one to get appropriate time-log info.


Projects in the works:
Roman signum parts, SCA greathelms, Pembridge helmets, Sugarloaf w/brass Maltese cross, buckles & misc.




Please note that I am not accepting custom commissions at this time due to my current waiting list. Some stock items will be available from time to time and will appear on my In Stock page.
SCA ARMOR
LIVING HISTORY
ARMOR
TOOLS AND
ARMOR HARDWARE
ROMAN ITEMS
LEATHER FLASKS,
BOTTLES AND KESTRELS
18TH C COLONIAL
ITEMS
WWI ITEMS
IRONWARE AND
CANDELABRAS
LEATHER AND METAL
ROSES